Fun Times at the Ritz Carlton Osaka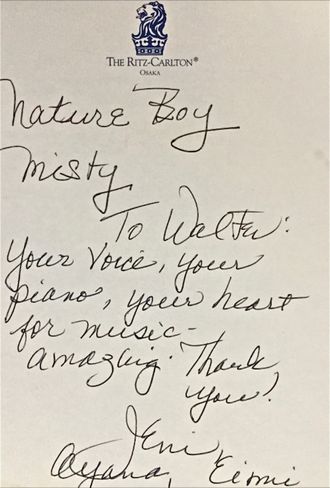 Night and day cd reviews 2020
MAN,
Your CD is all of that!   So smooth , warm, fat, round and just a joy to listen too.  I especially like the songs where your voice has no reverb.  Your chord changes always inspire me.   Love what you did with Loving You....Very cool.   I haven't got through them all, ....stopped at AllThe Way, but I'll get to the rest of course!      Really nice and FAT SOUND!!!   You've defintiely stepped up your game to the pros now.   Before, there where volume and depth discrepancies but now...all your songs are an the same level!   Amazing what you've accomplihsed!   Good stuff man!  Thanks for sharing....  I"m learning but not quite where you are....   Still I'm hopeful at least on the mixing tip.  I still put limits on myself when it comes to mastering.... Ummmmm, just don';t know what to do to make them sound the same....but I'm trying!   Glad you got the money....Thanks for letting me know..
Thank you very much Mr Clark, 
I received the new CD and have been postponing any comments until I listen to it many more times on my Genelec speakers. I will say that this is by far your best sonically, vocally and playing wise to date. It's hard for me to find any flaws with it. I don't want to sugar coat things but if your looking for me to give some constructive criticism on it I find it very hard to do because it really sounds good. I'm really just enjoying purely listening to it and being proud of what you've done. So please tell me what you want me to do? Do you really want me to look for something that I can comment on sonically, or do you want me to do what I've been doing and enjoy it as your best work to date. And as an additional comment Mr. Clark you, me, and I'm sure every one else that is familiar with you and your CD's knows, you have the gift of arranging. Beautiful arrangements on everything you do and have done, live and in the studio. So, please just let me enjoy this beautiful compilation of Walter Clark renditions of timeless masterpieces. 
Peace, 

Greg
Many Splendid Things
"

Format: Audio CDGot this from the publisher (cdbaby) and it arrived a few weeks ago. I have to confess that Walter and I were high school classmates but he never solicited me or anything like that. I didn't even know he had cut a few cd's. I am an author and I don't solicit him to read my stuff either. I plan to surprise him with this review. I have to drive a lot and usually I am singing along with Foghat, Foreigner, The Kinks and Deep Purple in my car. My wife and I car pool often and she gets annoyed sometimes at the blasts. I put Many Splendid Things in the CD player on the way home as a surprise and when it started my wife sat up and said, "hey this is very soothing". By the time all the tracks were played she decided it was pretty darn good and "very pleasant". We listened to it every day on the way home. I have a friend who plays jazz piano and he heard it as I was pulling into his portacochere and noticing it was nothing like my usual sound, he asked to borrow it. I have yet to get it back. He gave it to his doctor to play in the waiting room (he hates the doctor's choices) and some of the folks remarked favorably about it according to my friend. I have yet to get the CD back and I am going over to the doctor's office tomorrow and taking it back. I miss it. These are for the most part Walter Clark's renditions and rearrangements of old familiar tunes The first track (Lorraine) is very upbeat and has a "swing" to it. His Tennessee Waltz ending actually made me share the pain of the love loss that must have inspired the original lyricist. While a lot of folks deem it blasphemy to change old favorites in any way; Walter did a great job enhancing rather than losing their timeless charm. It was like hearing old friends who have aged and matured but you still know who they are. When I get it back my wife and I plan on sitting on our lanai and popping a bottle of wine open. While we watch the sun descend into the Pacific and the sky gives way to the Galaxy that special ambiance of the night with the sounds of sweetly ripened, vintage tunes will enhance our shared visit with these old friends courtesy of a very talented classmate. Do yourself a favor and buy these CD's by Walter Clark. Discover a truly unique artist. You are sure to like the broadened personality of some old friends.  " - By Joseph M. Przygodzinski on January 17, 2016
— Amazon
"

Best Thing to Come - 5.0 out of 5 stars Just sharing some early reviews that were sent to me on the first week of release:These reviews are for:First CDBaby review: Fantastic! 5 stars! author: Imani Z! I`ve known Walter for a few years now, and the one thing that I know about him more than anything else is he is relentless. He gives his all to anything that he`s involved in and his new CD is no exception. In fact, he really outdid himself. He studied engineering and mastering, and studied again and then studied some more but NEVER lost conscientiousness of the MUSIC! He performs brilliantly on every cut. His arrangements are top notch and his vocals and instrumentation never disappoint. The clarity and warmth of this CD seems to make the music just float on air but never to the point of being considered "elevator music" but instead, because of the arrangements & his excellent musicianship, keeps you on your toes as you will miss something VERY SWEET if you take your ears away for a second. I`m partial to "Destiny" and "Gypsies" but every single tune is done MORE than "well" but excellently. You will not be disappointed in the least. Just buy it and I know you will feel the same way. Respect to you Walter for a very, very fine effort! Can`t wait for the next! IZ After this, you may just be the man. Still listening to your CD and it ALWAYS sounds just as good as it did when I listened the first time.....ps....and smile.... even WITHOUT the wine..... ha ha ha have a good day.... IZ It was one hell of a coincidence to me that after I wrote to you yesterday, there was a wonderful surprise awaiting me in my mailbox. I don't need to tell you it was "Best Thing To Come", to which I am listening at this very moment. This thing is DYNAMITE! First of all "Destiny " is so beautiful and well executed it almost made me want to cry. What kind of piano was that? It must've been a full fledged genuine Bosendorfer (or something like that), right? I was just about to say the artwork, especially the cover, is enough to make the cd a success right there. And now I see it was done by June. She's absolutely phenomenal! What magnificent talent! ...I'm going to keep on listening to the new cd and say more about the songs after I finish. But so far, I hear a magnificent eclectic approach and I hear some pieces (such as tracks 11 and 12, Honesty and Desperado) that must've come truly from your heart, Hi Walter, How are you? I received the two books and your CD on Monday morning. Thank you very much for sending them. I didn't have much time yesterday to listen to all of the songs on the CD but what I was able to listen to sounded fantastic. Sonically its nice and fat and very well mixed. Your voice sounds great. Its nice and clear and very well proportioned in the mix. Also all of your arrangements are spectacular. Thank you very much for putting my name in the linear notes. Also your sister is very talented as well. Her artwork on the front cover is great. I have a few questions to ask you concerning various sounds you used on certain tunes so after I listen to all of the songs I'll give you a call and bombard you with my questions if you don't mind. Thanks again for everything. Talk to you soon. Later, Greg Hi Walter, I'll call you in a few. Everything was fantastic with the CD. I loved the arrangements, your voice, and the overall sound quality. Please keep on mixing and mastering yourself. Thanks again, Greg Mike wrote: "Silky Smooth Baby!!!" Hey Doll, Just a few quick words. I received the CD and am so very proud of you.This something that I always knew you were capable. I have felt every since I saw you,that your soul had a certain amount of peace.I know it's because you let God into your life.Ain't it grand.Stay health,cherish peace of mind,and stay with the Lord. Love you Dolonda Hi Walter, Neal Yermish commented on your Wall post. Neal wrote: "Walt, I loved the CD and I'm waiting for Amazon. I'm still "old school" and like to hold the disk (and copy it onto all my pc's & ipods)" More reviews: Well, my brother, Walt, I'm still listening to that true masterpiece that is your new CD. Speaking of Amazing, the bass work on #3, Amazing Grace, was certainly amazing. What is that called, sampling an acoustic double bass or what? A great and unique intro and interpretation, so much so that I had begun to doubt whether it would be the same song usually associated with that title. #4, Lovely Day. Very spry and upbeat. A "feel good" song to be sure. Simply and refreshingly beautiful! Again, truly hellified bass work too! Sounds like you've got ten live, individual, in-the-flesh musicians with you on that song, and you do a superb job of harmonizing with yourself on the vocals. You even said "Hit it", at the very end of one of the last tags, as though you were talking to other musicians present there with you. Splendid! More later as I continue listening. Right now listening to the very touching and very romantic #5, She. Chuck" - Friends, musicians and producers